Groundwater Sampling Submersible Pumps
Groundwater Sampling Submersible Pumps
Waterra carries 12 volt Groundwater Sampling Submersible Pumps that are designed specifically for well purging and sampling procedures for groundwater monitoring programs. Numerous models are available including Standard Performance Plastic and High Performance Plastic, Narrow Diameter Plastic and Stainless Steel pumps to meet your specific needs.
All of these pumps can greatly speed up the process of purging and sampling monitoring wells, especially if dedicated installations are used. These pumps are complete and ready to use.
PFAS, PFOS & PFOA free
Submersible Pumps are comprised of three elements: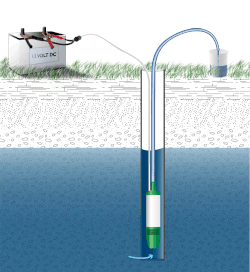 Submersible Pumps Selection Guide
You can select you pump options by first looking at your lift requirement as laid out in the left hand column. Click on the pump model to see more detailed information.