Submersible Pumps from Waterra
Groundwater Sampling Submersible Pumps
Waterra carries 12 volt Submersible Pumps that are designed specifically for well purging and sampling procedures for groundwater monitoring programs. Numerous models are available including Standard Performance Plastic and High Performance Plastic, Narrow Diameter Plastic and Stainless Steel pumps to meet your specific needs.
All of these pumps can greatly speed up the process of purging and sampling monitoring wells, especially if dedicated installations are used. These pumps are complete and ready to use.
PFAS, PFOS & PFOA free
Submersible Pumps are comprised of three elements: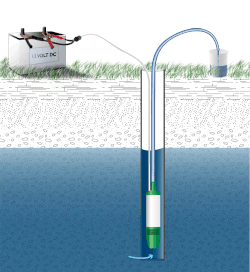 Submersible Pumps Selection Guide
You can select a pump by your lift requirement in light blue eg. 25 ft / 8 m which is the lift in feet and metric equivalent. These links will guide you to the matching controller as well.
Standard Plastic

High Performance Plastic

Stainless steel

Narrow Diameter Plastic

Lift
Lift
Lift
Lift
Up to 100 ft / 30 m
Up to 200 ft / 61 m
Up to 180 ft / 55 m
Up to 120 ft / 37 m
12 V Battery Required
12 V Battery Required
12 V Battery Required
12 V Battery Required
Optional Standard Performance
Controllers
Require High Performance
Controllers
Most Require Stainless Steel Controllers
Require Controllers
PA-10800
PA-10700
ProBooster1
PA-10800
or
PA-10670
PA-10700
PA-10750
PA-10675
or
PA-10850
PA-10680
PA-10750
Standard Performance Pumps – Plastic
High Performance Pumps – Plastic