Waterra Well Slug for aquifer characterization
A Waterra Well Slug helps characterize your aquifer permeability
The Waterra Well Slug is a convenient, fixed volume, cylindrical solid for performing instantaneous, rising or falling, head permeability tests (hydraulic conductivity) in boreholes.
The Waterra Well Slug (WWS-2X3) is designed specifically for 2″ Schedule 40 monitoring wells, but in practice can be used in larger monitoring well. It consists of three sections of solid Acetal Rod which can be used either individually or together to produce greater displacement.
It is constructed of Acetal (Delrin) thermoplastic because of its long acceptance as a material of choice for groundwater monitoring equipment. It is known for its durability, its chemical resilience in harsh environments, and unlike some polymers, acetal thermoplastic is PFOA and PFAS free.
Features
Constructed in three segments for flexible use and easy transportation
Durable, long lasting, chemically resistant material of construction
Easy to use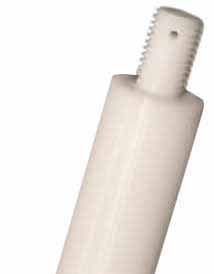 Individual Section of the Waterra Well Slug
Length
1.63' (497.4 mm)
Diameter
1-5/8" (41.28 mm)
Volume
0.15 imp gal (0.18 US gal) (0.67 L)
Three Sections of the Waterra Well Slug
Length
4.9' (1492 mm)
Diameter
1-5/8" (41.28 mm)
Volume
0.44 imp gal (0.53 US gal) (2.0 L)

Variable Head Permeability Tests
One of the oldest methods of calculating a formation's permeability (hydraulic conductivity) is to use a simple tool known as well slug.
The slug is a solid object of a known volume and displacement, which can be quickly immersed or withdrawn from a water column. This produces near instantaneous head level changes in a well. Values for permeability can be calculated with the use of a slug, a stopwatch, and a water level indicator.
Today many people use a pressure transducer and data logger which will produce more precise data; often taking readings in ¼ second intervals.
There are two approaches; a Falling Slug Test and a Rising Head Test as illustrated below.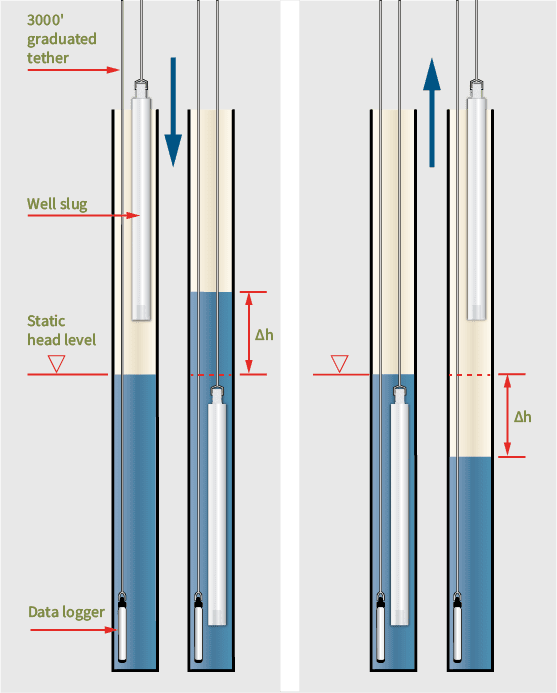 Rising Head Test                        Falling Head Test
Linear Volume Per Unit Length
Length
Volume
1 Foot
0.145 Imp. Gal. / 0.174 US gal.
1 Meter
2.169 Litre
Slug Displacements With WWS-2X3
No. of Sections
Displacement
1
12.1" (307 mm)
3
36.3" (922 mm)
Technical Paper:
Pumping and Slug Tests
State of Ohio EPA
Waterra Graduated Tether
Length
3000 feet (914 m)
Width
3/16" (4.8 mm)
Markings
graduated in feet from 0' to 3000' with markings at one foot increments
Material
waterproof polyester
Average Breaking Strength
170 lbs (0.756 kN)
Volume
0.44 imp gal (0.53 US gal) (2.0 L)