WS-2 Faceplate
When the WS-2 is turned on, the battery light will be illuminated continuously. Low batteries are indicated by a flashing signal from the low battery light indicator.
When the WS-2 water level probe contacts water, the buzzer will emit an intermittent tone and the water indication light will illuminate.
In some groundwater conditions, the probe may not adequately detect the water in the well. This may be caused by low salinity. When this happens, the sensitivity of the unit can be adjusted by rotating the sensitivity adjustment knob located on the left side of the front hub panel.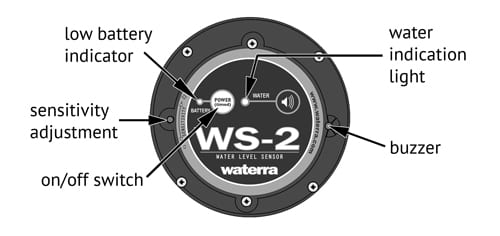 WS-2 Faceplate Features
membrane ON/OFF switchwith an automatic power saving feature that will turn the unit off after three minutes
water indication light LED display that illuminates when water is detected
loudest buzzer available was chosen for these sensors to ensure that the units could be heard in noisy environments.
sensitivity adjustment potentiometer allows the unit to be set specifically to a wide range of water salinities, allowing the user to dial out the false readings caused by cascading water
low battery indication light
battery pack is located on underside of faceplate
Adjusting the conductivity sensitivity setting
In order to allow the WS-2 ReelCase to detect water of various salinity, the design includes a sensitivity adjustment knob. This knob is located on the left side of the front hub panel.
In monitoring wells where excessive bridging is experienced, the knob should be rotated to the left. Where water of low salinity is suspected, the knob should be rotated to the right. The optimum setting is obtained by adjusting the control knob to the point where the WS-2 is no longer emitting the water signal while the probe is immersed in the well. Then rotate the knob back in the opposite direction slowly, stopping when the water signal begins again.