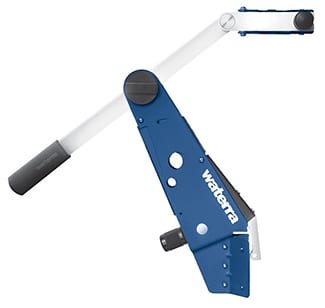 Portable Mechanical Advantage
The Waterra Lever Arm is a manual lever designed to provide operators with a convenient, portable mechanism which would provide some mechanical advantage when manually operating the Inertial Pump as well as facilitating the collection of samples with this system.
This actuator will fasten onto most above ground well completions quickly and easily. The tubing clamp is designed to accept Standard Flow, High Flow and Low Flow tubing and the handle is adjustable in order to accommodate various casing diameters and desired stroke lengths.
The Lever Arm weighs approximately 8 pounds.
This actuator is the best choice for the occasional light duty user of the Waterra (Inertial) Pumping System (Standard Flow, High Flow and Low Flow).
Waterra Lever Pump Features
Fully adjustable
The Lever Arm is fully adjustable and will adapt to almost any size casing or protective well casing. An above ground well completion is required in order to use the Lever Arm.
One handed operation
Using the Lever Arm can make sample collection easier because it supports the discharge end of the pump's tubing, allowing the field technician to operate the inertial pump with one hand and hold a sample container with the other.

Hinged tubing clamp
The tubing clamp is hinged, which helps prevent pump tubing from abrading against well casing.
Reduces fatigue
The hand lever can reduce some of the fatigue that one may experience when required to purge large volumes from wells.
Suitable for use with Standard Flow, High Flow and Low Flow Waterra Pumps
Adapts to almost any size casing or protective well casing
Lever Arm Specifications
| | |
| --- | --- |
| Dimensions | 24" length, 17" height |
| Weight | 8 lbs (3.6 kg) |
| Powered by | Manual operation |
| Additional Requirements | Above ground well completion |
| For Use with | Inertial Pumping Systems — Standard Flow, High Flow, Low Flow |