Field-Pro Peristaltic Pump
The Field-Pro Peristaltic Pump
The Spectra-Field-Pro Peristaltic Pump offer the advantage of simplicity in the field and the only component which is dedicated to the monitoring well is typically a piece of small diameter tubing which is very inexpensive. Additionally, flow with these pumps can be regulated easily making them quite suitable for low flow sampling.
Peristaltic pumps have long been used for groundwater sampling. These pumps have a number of advantages over other types of devices, but they also have some limitations.
Although peristaltic pumps are quite easy to use, their application in the field is more limited than other devices. Peristaltic pumps work by reducing the pressure in the sample tubing. Water must then rise up the tubing to equalize the pressure differential because the bottom end of the tube is open. The maximum theoretical vacuum that a peristaltic pump can create is -1 atmosphere, which at sea level is equal to 14.7 psi and equivalent to a 32 foot water column. In reality, the maximum lift the best peristaltic pumps generate in the field is about 27 feet (8.2 m) at sea level and this will decrease with increasing elevation.
Since peristaltic pumps apply a negative pressure to the water column, care must be used when collecting samples for VOC analysis since degassing is a possibility.
The Spectra Field-Pro is a state-of-the-art peristaltic pump that features a heavy-duty, all-inclusive design. This means no external cables,chargers or batteries to worry about.
Built For Field Use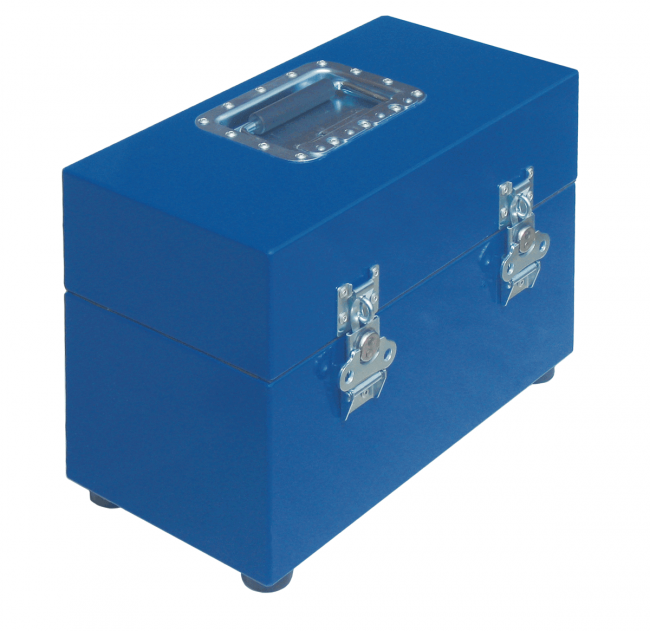 Weighing in at 29lbs/13 kg (including the battery), the Spectra Field-Pro's powder coated aluminum case has heavy duty latches, hinges and handle.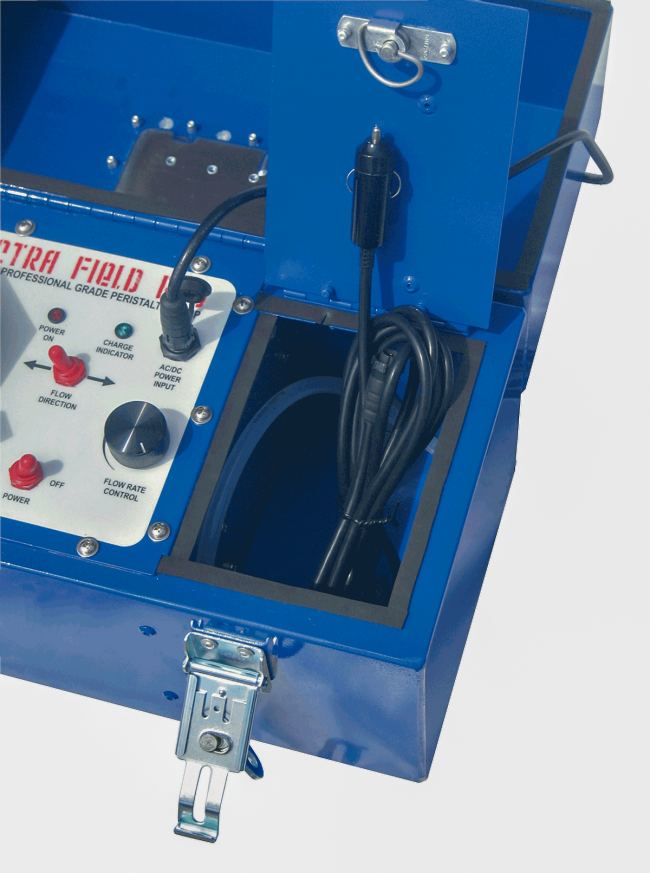 The case has a built in storage compartment which can hold a field book as well as the two power cables that come with the Field-Pro.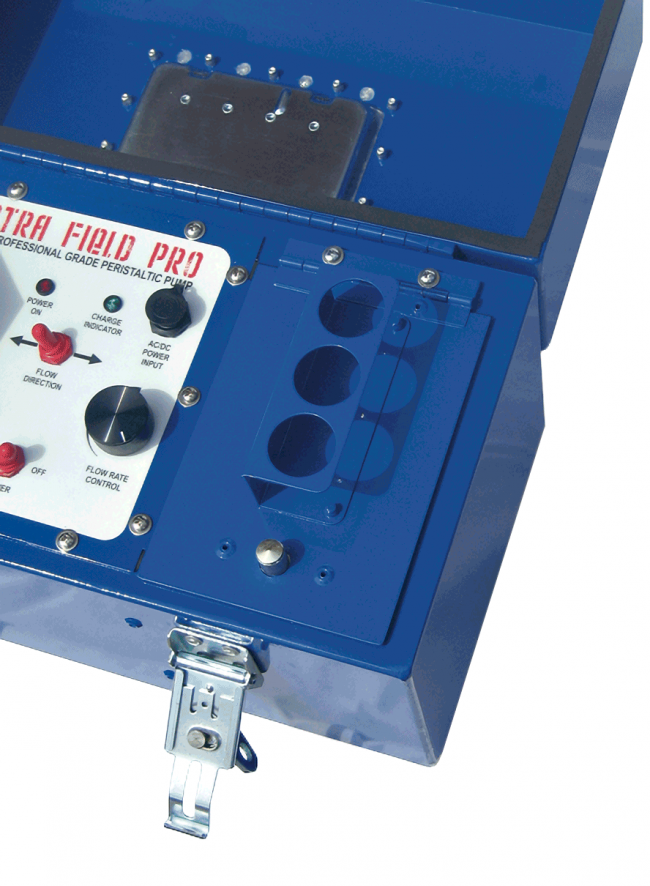 The case also incorporates a stand for sample bottles. A rubber gasket around the inside of the case lid helps keep the elements out while it's closed.
Features
EZ-Load pump head design – prevents stretching or jamming of silicon tubing; no screws to handle
heavy duty construction – constructed with top quality components
battery included – will run all day at full strength; outlasts competition
built-in VOA stand – allows easily sampling without spillage
advanced electronic flow controller – maintains a steady flow rate regardless of battery voltage; will not cut out during low flow sampling
pump head angled on top of unit – for ease of operation; prevents clean tubing from soilage
built-in storage compartment – for charging cables, field book, tools, well key, etc.
all cables included
Best Pump Head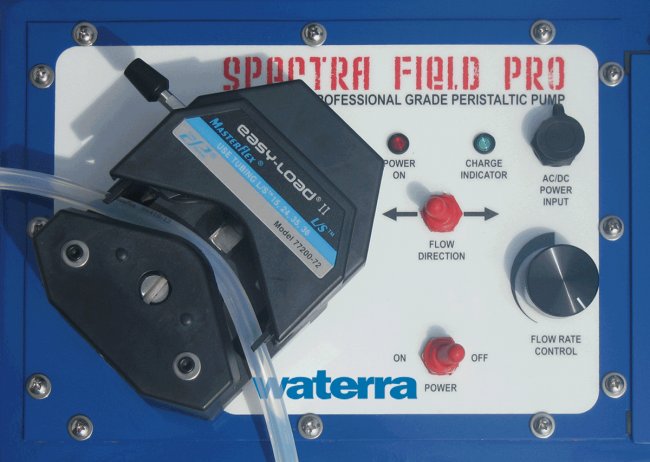 The Masterflex EasyLoad II pump head is the best available – especially for environmental work. The peristaltic tubing is simply placed into the pump head channel and the head is then closed by moving the lever over to the opposite position. Next, sample tubing is attached to the peristaltic tube and the unit may be turned on.
Spectra Field-Pro Specifications
| Specifications | |
| --- | --- |
| Dimensions | 16.5"L x 10.5"W x 9"H |
| Weight | 29 lbs (13 kg) |
| Compatible Tubing Sizes | Masterflex 15, 24, 35 & 36 |
| Approximate Flow Rate | 50-1900 ml/min |
| Battery Life at Low Flow | 14 hours |
| Battery Life at High Flow | 9 hours |