Peristaltic Groundwater Sampling Pump
Peristaltic Groundwater Sampling Pump for Shallow Use
Waterra carries Peristaltic Groundwater Sampling Pumps because they are quite easy to use but peristaltic pump lift is more limited than other devices. They work by reducing the pressure in the sample tubing. Water rises up the tubing to equalize the pressure differential because the bottom end of the tube is open. The maximum theoretical vacuum that a peristaltic pump can create is -1 atmosphere, which at sea level is equal to 14.7 psi and equivalent to a 32 foot water column. In reality, the maximum lift the best peristaltic pumps generate in the field is about 27 feet (8.2 m) at sea level and this will decrease with increasing elevation.
These pumps offer the advantage of simplicity in the field and the only component which is dedicated to the monitoring well is typically a piece of small diameter tubing which is very inexpensive. Additionally, flow with these pumps can be regulated easily making them quite suitable for low flow sampling.
Since peristaltic pumps apply a negative pressure to the water column, care must be used when collecting samples for VOC analysis since degassing is a possibility.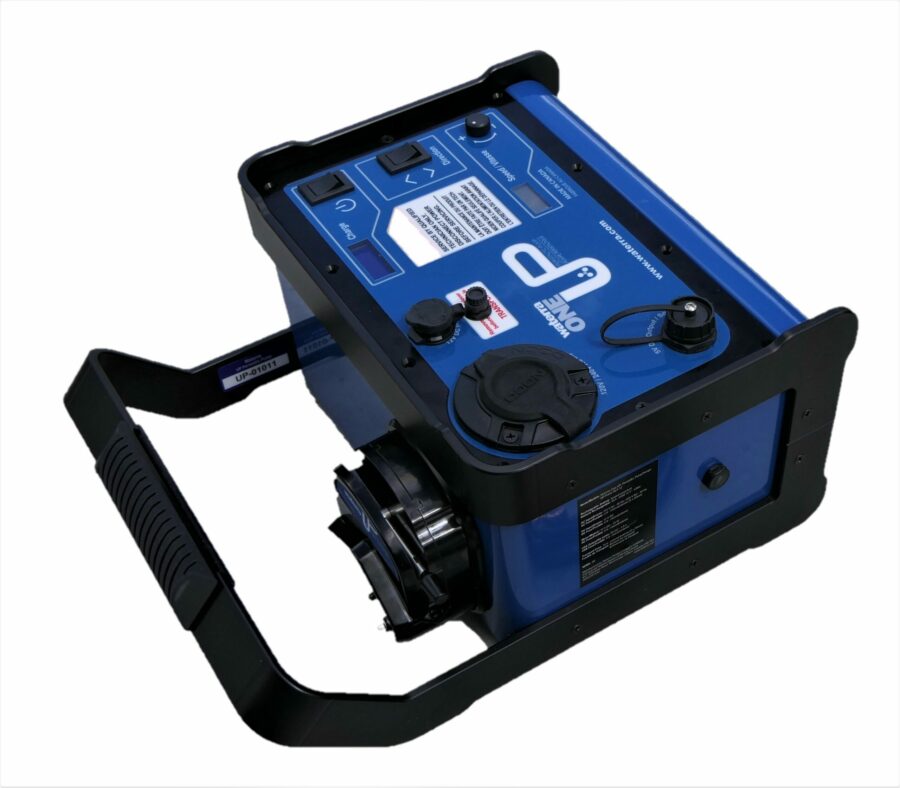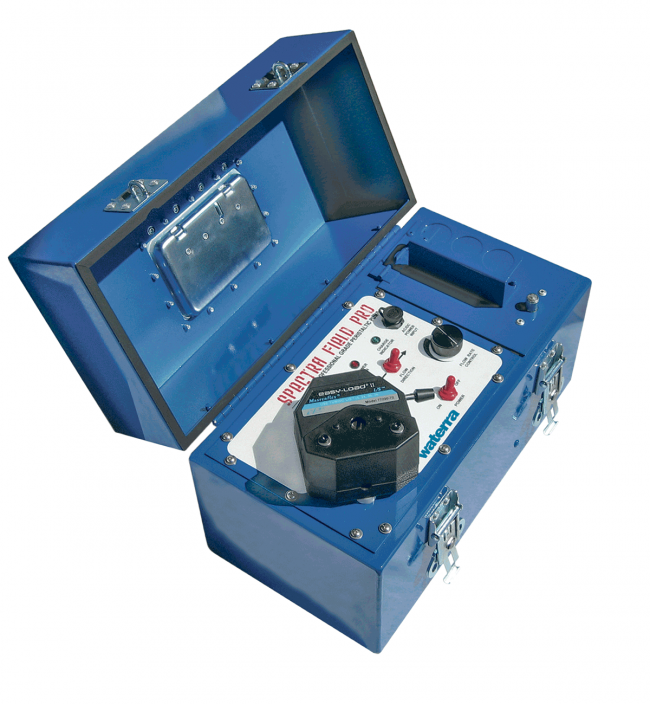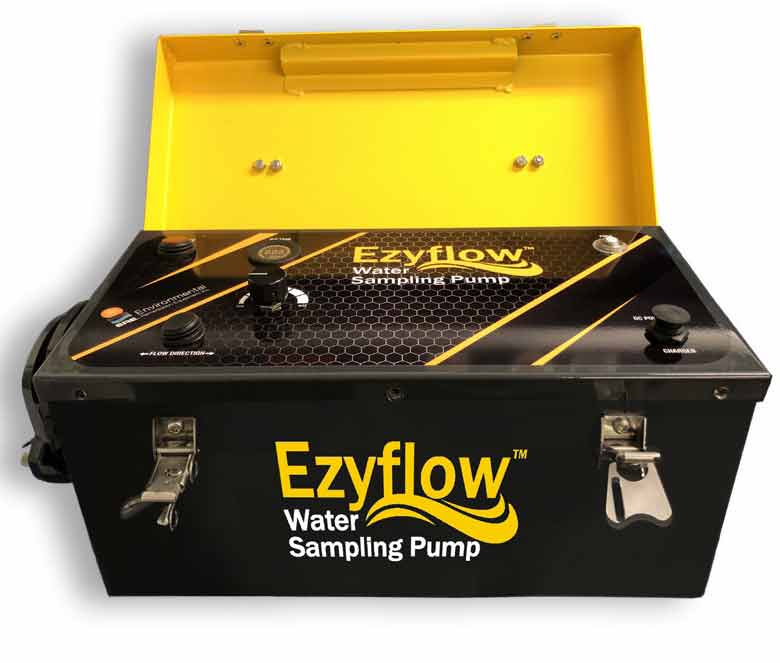 Waterra 1 UP Peristaltic Groundwater Sampling Pump for Shallow Use and Surface Water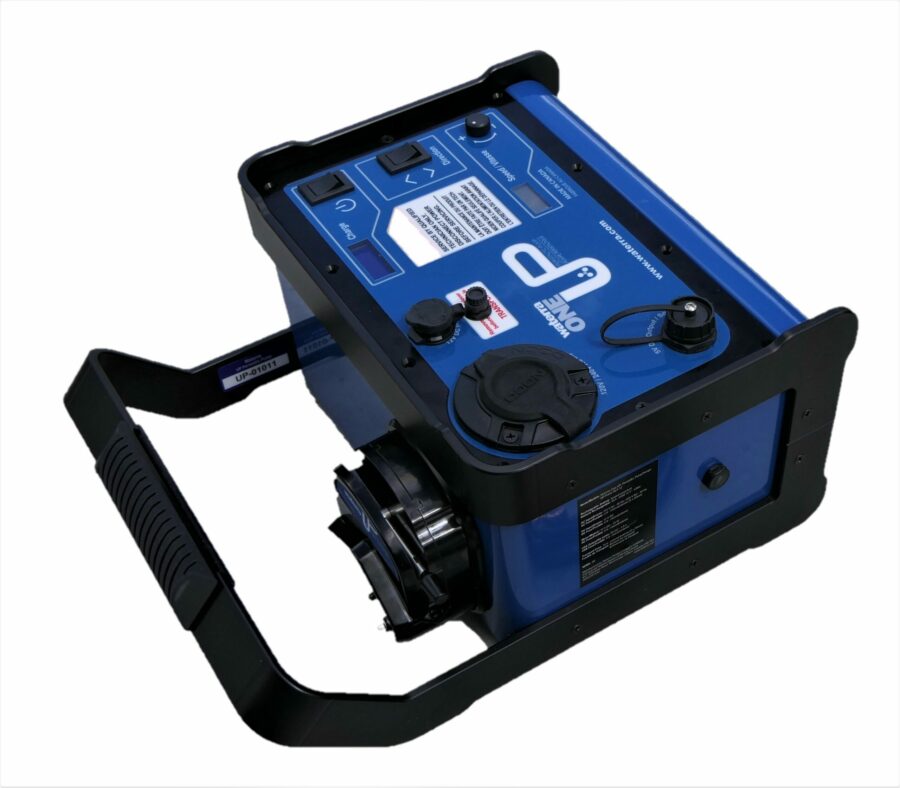 Waterra has developed an innovative portable peristaltic pump for sampling ground and surface water. Incorporating Lithium Iron Phosphate (LIFE) batteries to reduce weight, and present a better power performance profile, the 1 UP Pump with a 20 amp hour ( 20 Ahr) battery weighs less than 21 pounds ( 9.6 kg). Conventional SLA (Sealed Lead Acid) batteries are an option as well given that they cost is less but, the counterpoint is that they weigh twice as much as LIFE batteries. The pump features a convenient  ergonomic handle that also serves to protect the pump head.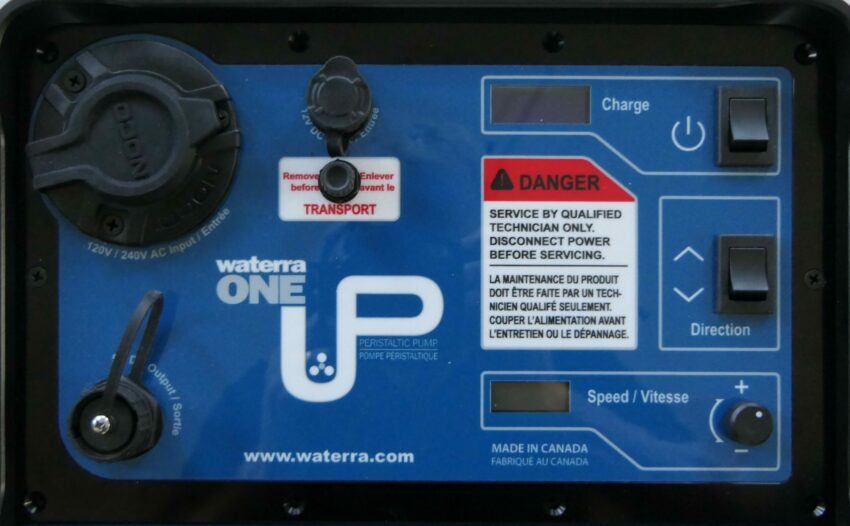 The 1 UP control panel is displayed above and features:
 110 or 220 VAC input
external 12 V input with 10 foot ( 3 m) cable with alligator clips included.
on- off switch
speed control
reversible direction switch
removable fuse for transportation
speed and battery life displays
USB port ( 5 V – 1000 ma )
Specifications for Waterra 1 UP Peristaltic Sampling Pump
Model Number
UP-Pump
-SLA -12
UP-Pump
-SLA-20
UP-Pump
-LIFE-12
UP-Pump
-LIFE-20
Battery type
Sealed Lead Acid
Sealed Lead Acid
Lithium Iron
Phosphate
Lithium Iron
Phosphate
Battery Capacity
12 Amp Hours
20 Amp Hours
12 Amp Hours
20 Amp Hours
Charging time
5 hours
8 hours
5 hours
8 hours
Field run time
5 hours
8 hours
7 hours
12 hours
Weight
22 lbs / 10 kg
27 lbs / 12.4 kg
18 lbs / 8.2 kg
20.6 lbs / 9.4 kg
Size:       41 cm x 31 cm x 18 cm = 16 in x 13 in x 8 in