Standard Flow Groundwater Sampling Pump
Waterra Standard Flow Pump for Sampling
Standard Flow Groundwater Pumps were the first Waterra Pumps (Inertial Pump) developed in Canada in the 1980's. The Standard Flow system is a very popular inexpensive pump comprised of a foot valve and a length of sampling tubing. Literally millions of wells continued to be sampled with Waterra Pumps.
This system is typically used in 2 inch monitoring wells.  Waterra Pumps are often dedicated to wells due to their low cost and to avoid cross-contamination or de-conning issues.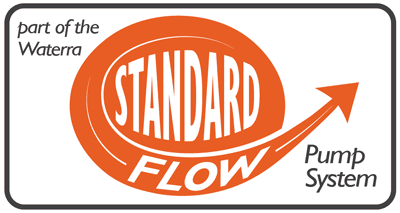 2 and 4 inch Monitoring Wells

Tubing:
1/2 inch x 5/8 inch
3/8 inch x 5/8 inch
Max Flow: 
1 gpm = 3.8 lpm
Max Lift:
normally 200 feet (60 m) but up to
300 feet = 90 m in special circumstances
A D-25 or SS-19 or for narrower wells a D-16, D-22 or an SS-16 Waterra Foot Valve is attached the bottom end of a length of either LDPE or HDPE Waterra Tubing.
The Foot Valve – Tubing combo is inserted into the well, Foot Valve first, until the valve is submerged beneath the water table to the desired pumping depth.
The tubing is then oscillated (pulled up and then pushed down) over a short vertical range (about 1/2 foot – 15 cm) of motion by a Lever Arm.  When there are a lot of wells or deep wells a Hydrolift Electric Actuator or a Power Pack gasoline driven actuator with 4 inch (10 cm) strokes can be used to move the tubing up and down in the well.
If no actuator is available, in most cases, you can just use you hands to oscillate the tubing but this is tiring work.
Water builds up in the oscillating tubing until it discharges at surface.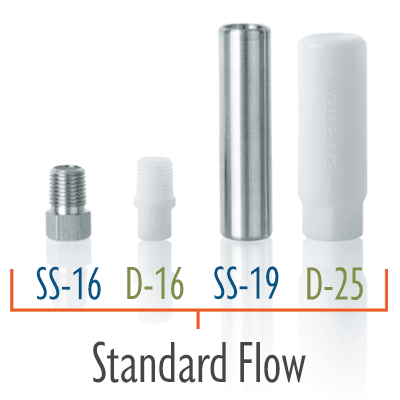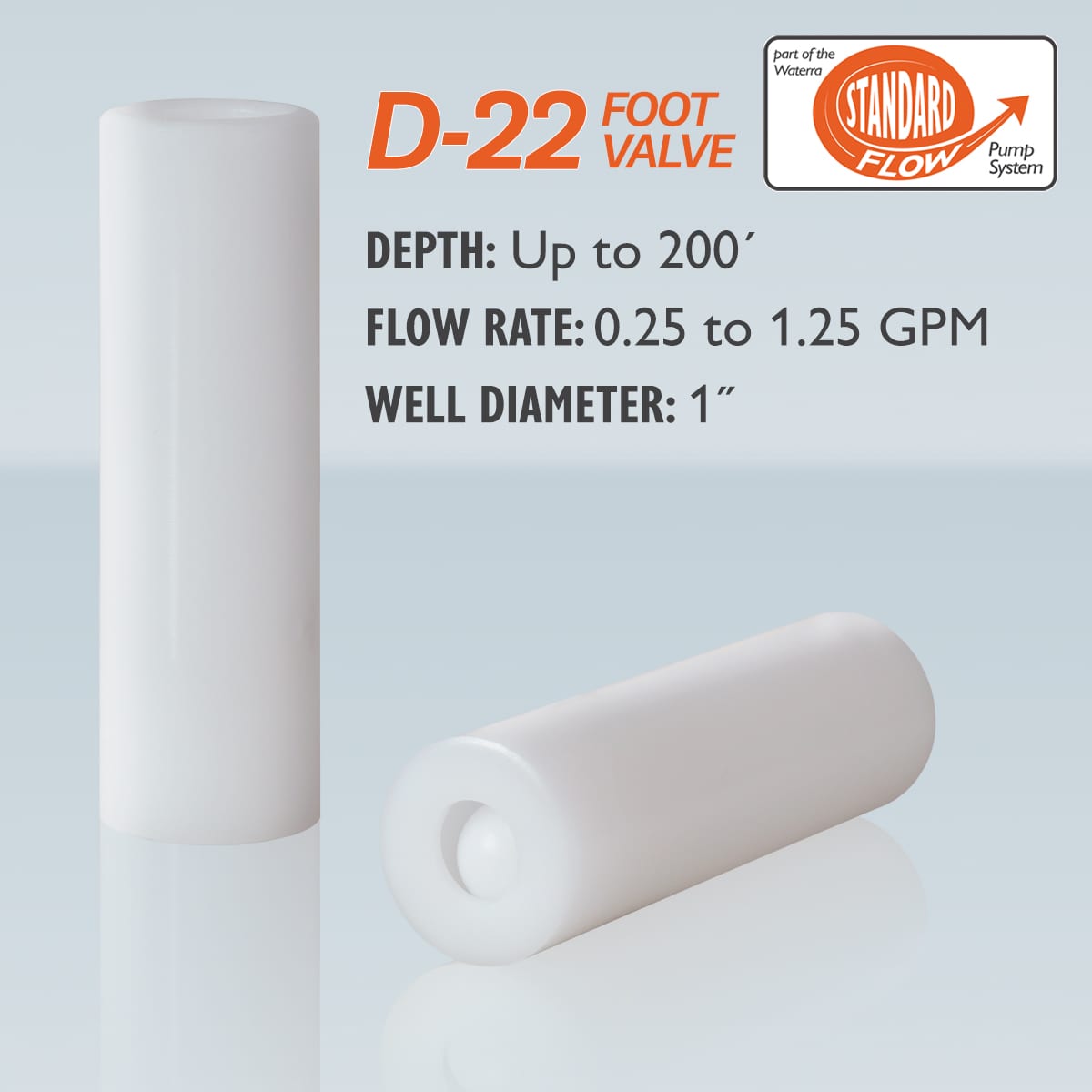 The Standard Flow System is our most popular system and is used around the globe to sample 2 inch monitoring wells.
The D-25 (Delrin)and SS-19 Stainless Steel Foot Valves can deliver a sample from 200 feet (60 m) OR as deep as 300 feet (90 m) in special circumstances and flow rates with this system are usually less than 1 gallon per minute (3.8 lpm).
The D-16 (Delrin)and SS-16 Stainless Steel Foot Valves can be used where the piezometer is narrower or constrained in some manner.
The D-22 (Delrin) Foot Valve is a  D-25 that has been reduced to a diameter of 22 mm. They are used to develop a one inch piezometers.
Standard Flow
Foot Valves
Standard Tubing
Surge Blocks
Tubing Actuators
D-25, D-22 & D-16

SS-19 & SS-16
LDPE
(Low Density Polyethylene)
— 1/2" OD x 5/8" ID
100, 200, 500 and 1,000 foot rolls

HDPE
(High Density Polyethylene)
— 1/2" OD x 5/8" ID
100, 200 and 500 foot rolls

FEP (Teflon)
— 1/2" OD x 5/8" ID
call for availability
SBD-25-2

SBD-25-4
By hand with effort

Lever Arm

Hydrolift 2

Power Pack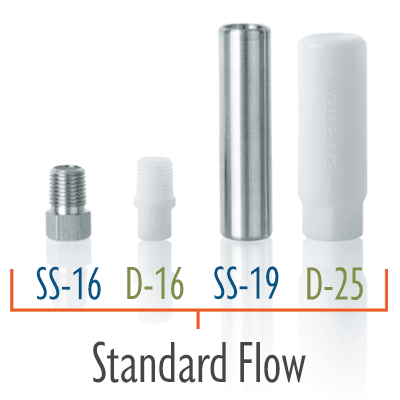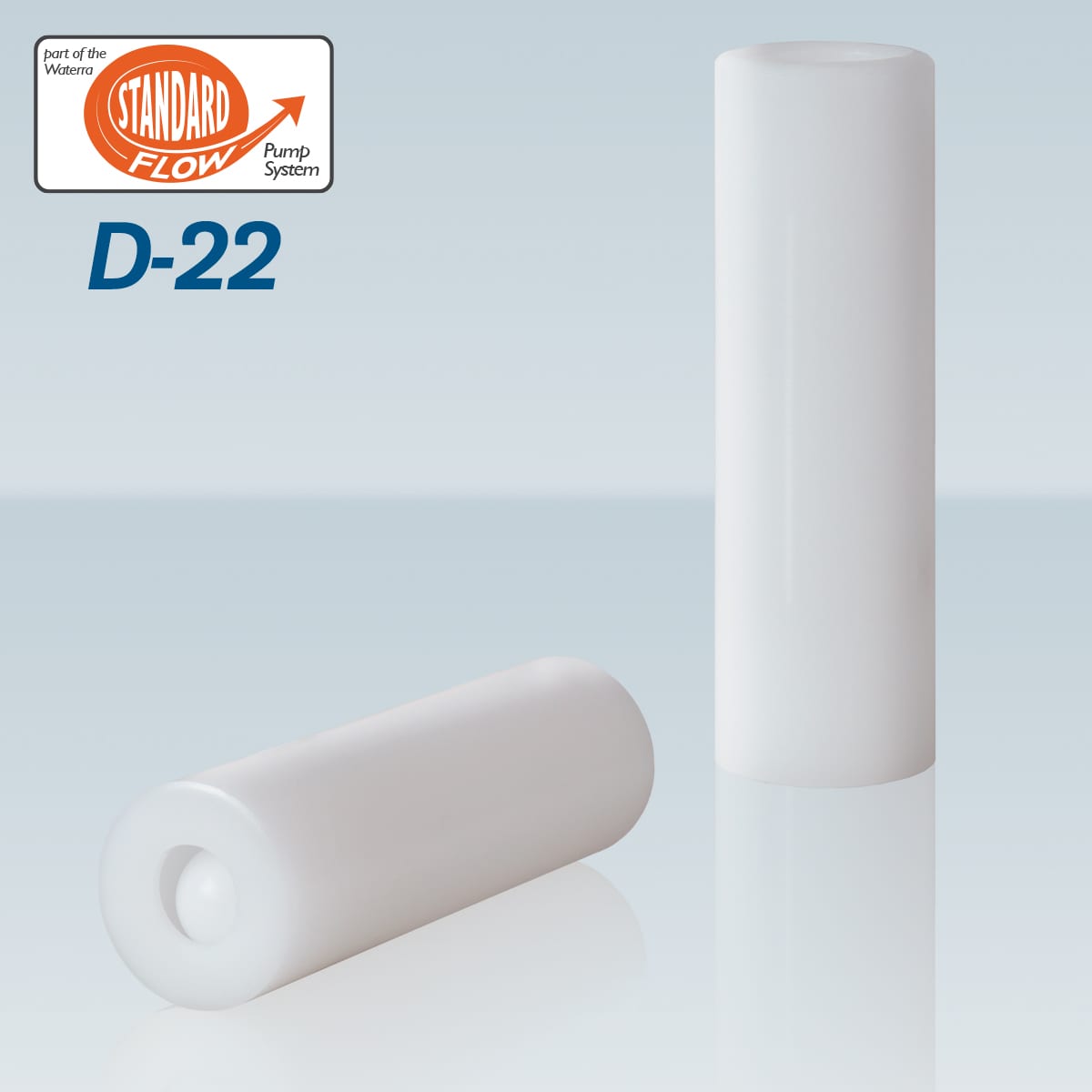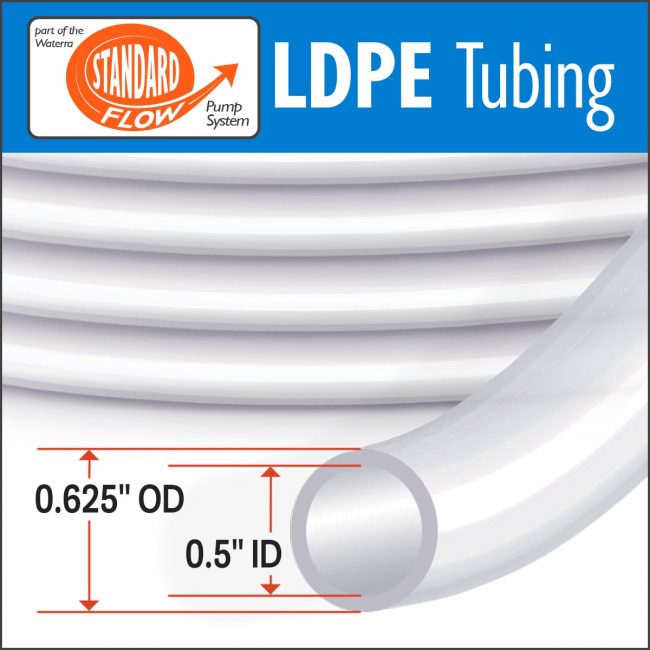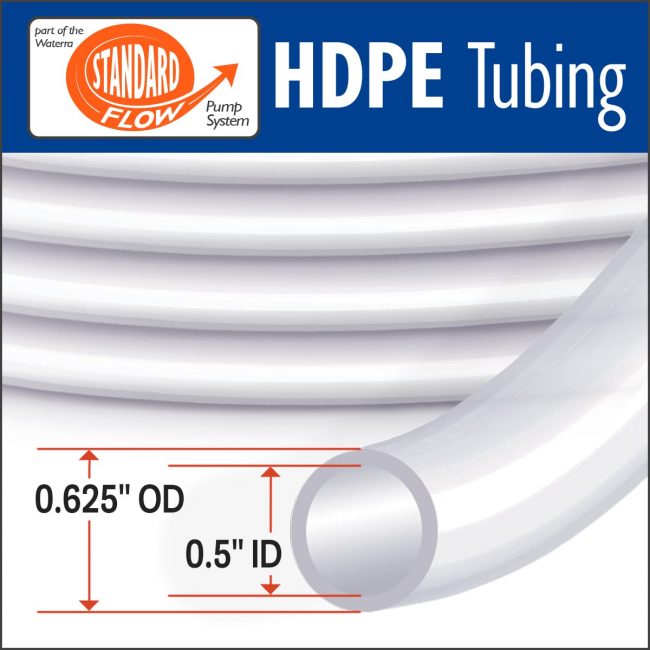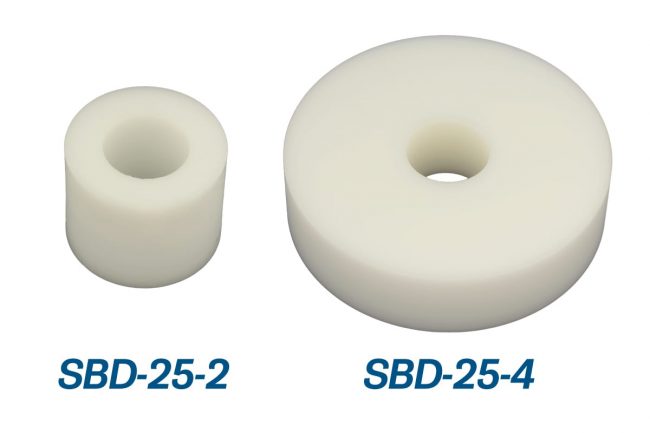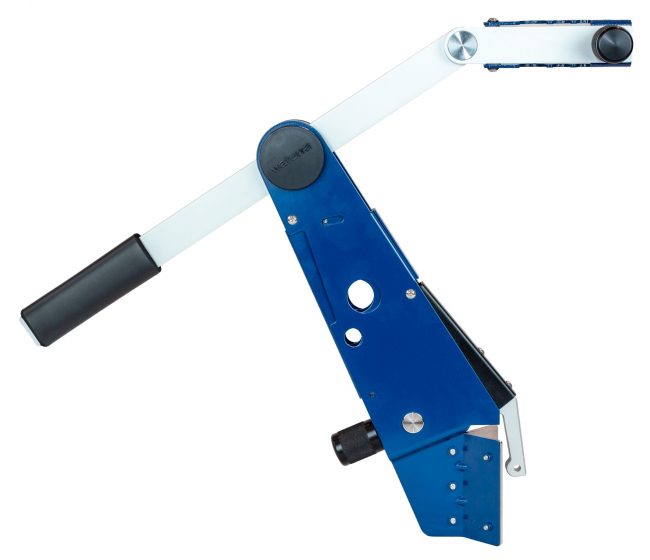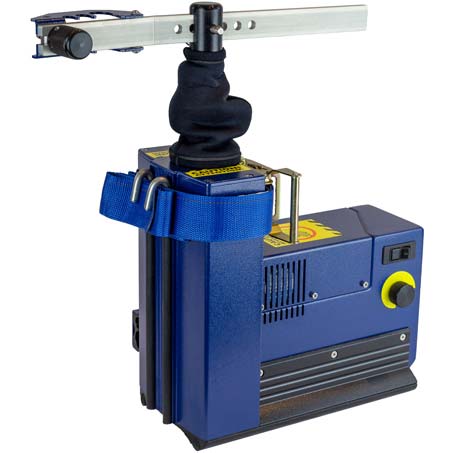 Standard Flow System:

< 1 gpm & max 200 feet - (3.8 lpm & 60 m) BUT can lift up to 300 feet (90 m) in special circumstances
A Waterra Pump has outstanding well development, surging and clean out capabilities.
Developing a Well with a Waterra Surge Block
Please note - Surge Blocks, Foot Valves and Tubing are sold separately.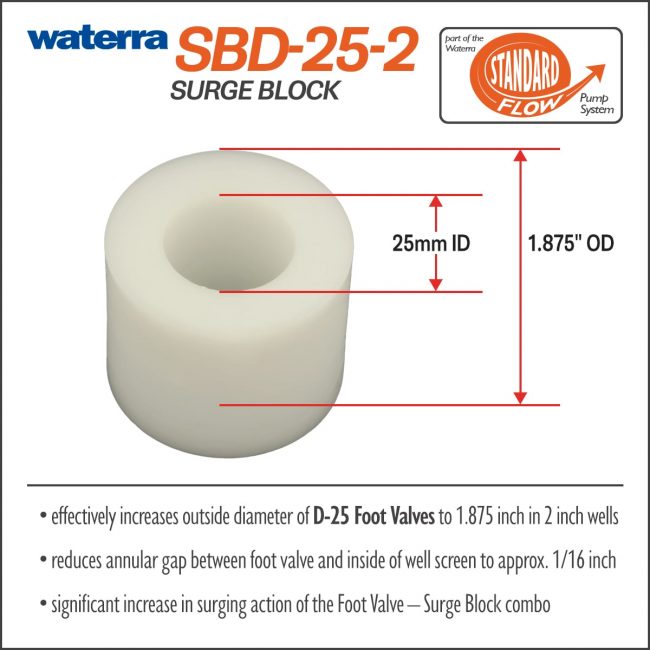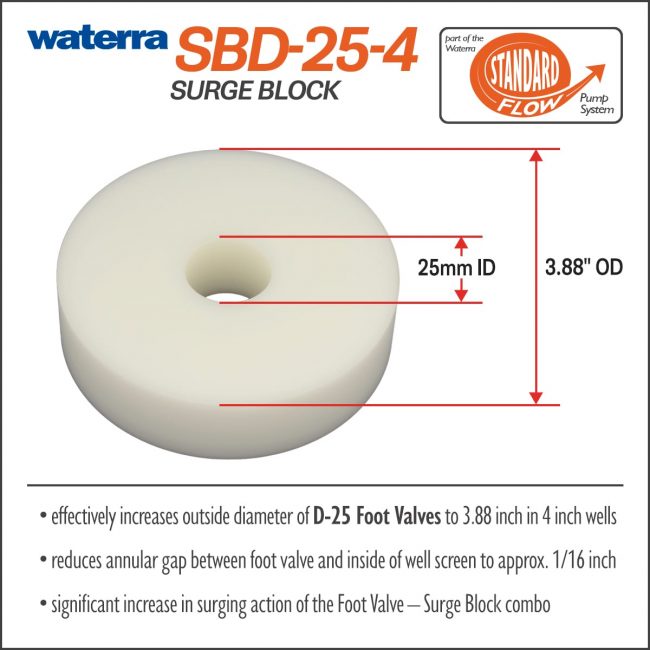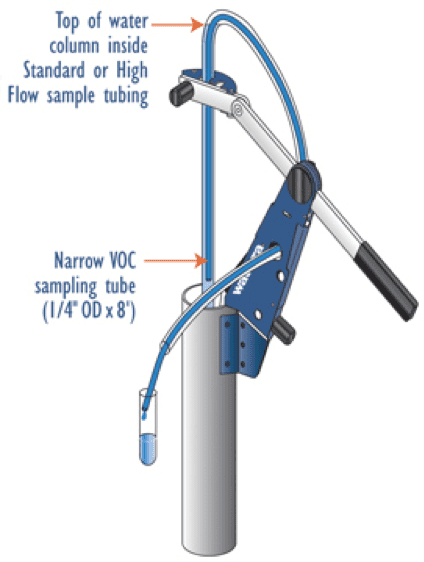 Complete the applicable pre-sampling protocol whether it be the classic "purge three well volumes" or "pump until stability of well water parameters is achieved" or other protocol using a Waterra Pump system.
Keep pumping but insert the VOC sampling tube up into the Waterra Tubing as illustrated above.
Position the VOC tubing so that there is no cascading of water in the VOC tube.
Direct the flow into your sample vessel.