How to Sample Groundwater in Monitoring Wells
Use Waterra Pumps and Equipment
How to Sample Groundwater in Monitoring Wells is the heart of our business! Waterra is a specialist in groundwater monitoring equipment. We currently carry four different systems or devices that could be used to collect samples of groundwater from exploratory or reconnaissance piezometers and monitoring wells. We can sample from as little as 0.5 inch (13 mm) inside diameter (ID) up to 4 inch (10 cm) ID monitoring wells. As always, a Waterra technician would be happy to help configure a system to your specific application.
Here are the four Options of systems or device that you could use to sample your well.
Option 1
Sampling with a Waterra Pump
A Waterra Pump is a simple, inexpensive way to sample a monitoring well. A Waterra Foot Valve is attached the bottom end of a length of Waterra Tubing. The Tubing – Foot Valve Combo is inserted into the well, Foot Valve first, until the valve is submerged beneath the water table. The tubing is then oscillated up and down over a short range of motion either by hand or with a Waterra Tubing Actuator. The Tubing – Foot Valve Combos are often dedicated to wells due to their low cost and to avoid cross-contamination or de-conning issues.
Waterra Foot Valve Waterra Tubing Waterra Tubing Actuator
Thread the Waterra Foot Valve onto matching Waterra tubing
Insert the tubing, valve first, into the well.
Feed the tubing down the well to the screened interval
Cut off the tubing leaving about 6 feet (2m) above the top of the well
Affix the Waterra Tubing Actuator to the well head
Connect the tubing to the actuating arm and also the fixed discharge point on the actuator
Begin pumping by turning on the Tubing Actuator or by hand by oscillating the tubing and foot valve assembly up and down in the monitoring well
Sample when your pre-sampling protocol is complete
Waterra Words of Wisdom
Our most popular system is comprised of a D-25 Foot Valve, Standard Tubing and a Hydrolift Tubing Actuator
Mechanical Tubing Actuators allow field personnel to perform other duties
Waterra pumps can be used for well development and purging too
This system can be used for VOC sampling as well
Option 2
Sampling with an eco Bailer
How to Sample Groundwater in Monitoring Wells and Piezometers can also be addressed by using an eco Bailer. This is an excellent option where a pump is not suited or available for sampling. Bailers are very simple devices that can be used to collect water samples from almost any size well and are suitable for most contaminated environments. Waterra offers both PVC and polyethylene bailers in a four diameters and various lengths with weighted and non-weighted options too. These disposable bailers are inexpensive and can either be dedicated to wells or disposed of after use.They are individually packaged; each with a bailer emptying spout.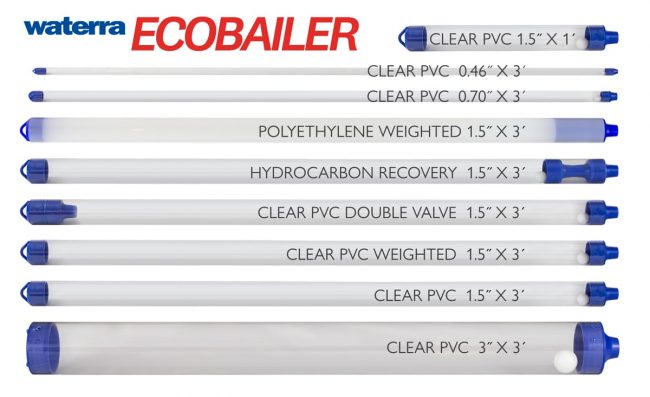 Attach a cord or rope to the top loop of the bailer
Lower the bailer into the monitoring well by means of the cord or rope.
Allow the bailer to sink to the screened portion of the well
Pull the bailer up out of the well
Remove the sample from the bailer with the use of a bottom emptying device or it can be poured from the top of the bailer by carefully tipping it.
Waterra Words of Wisdom
bailer work can be labour intensive depending on what you are trying to accomplish
bailers are not suitable for low-flow sampling
bailers can be dedicated to wells
Option 3
Sampling with a Submersible Pump
Waterra carries Submersible Pumps that are another alternative for collecting groundwater samples. These pumps are portable and easy to operate. These pumps can be used to purge and sample monitoring wells 2″ or larger. A range of these products are available that can provide lifts of up to 90 feet. These units require a 12 Volt and Waterra Low Flow Tubing. Flow rates will vary with the lift, increasing lift decreases flow rates.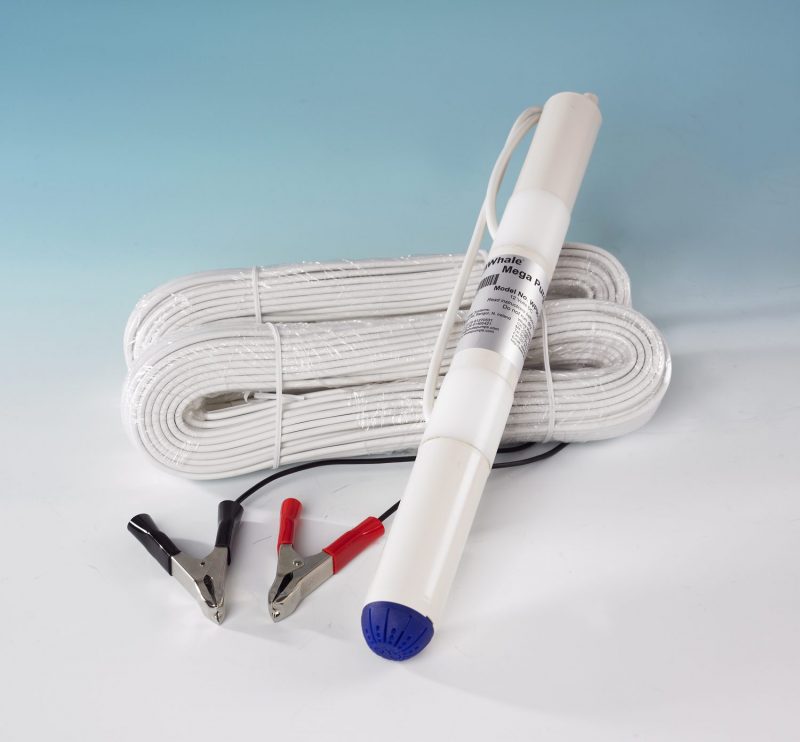 Waterra Words of Wisdom
We are happy to help you spec pumps for your groundwater sampling program
Option 4
Sampling with a Peristaltic Pump
If you are within suction lift capabilities of a peristaltic pump, generally 24 feet  (7.3 m)or so, you may want to consider a Peristaltic Pump. Lift capability is better at lower elevations where atmospheric pressure is higher. A rotating mechanism squeezes the Waterra Peristaltic Tubing and rolls forward creating a lower pressure zone behind the roller which basically sucks water up the sample tubing in the well.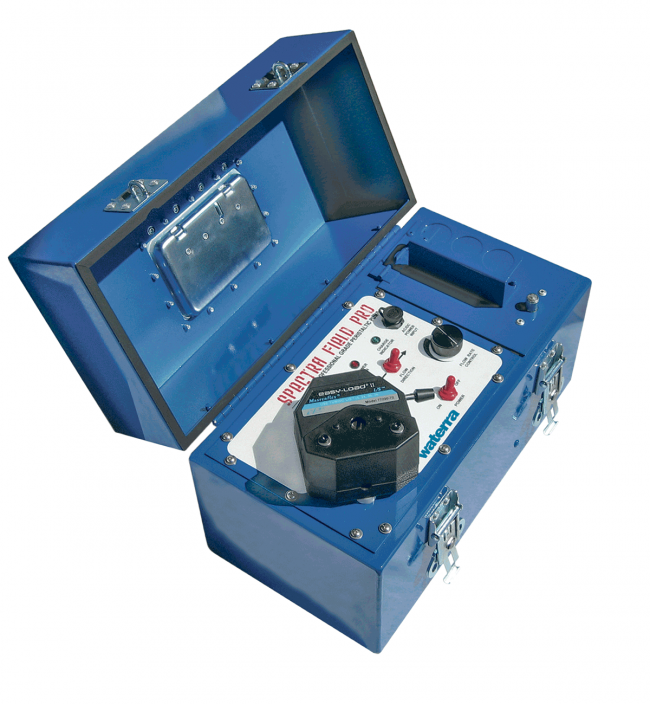 Open the pump head and insert a length of Waterra Peristaltic Tubing into the pump head
Feed the Waterra sample tubing down the well to the desired length.
Insert the appropriately sized sample tubing into the peristaltic tubing sufficiently so that is secure and won't fall down the well
Turn on the pump making sure that the rotation is pumping from the well
Sample when your pre-sampling protocol is complete
Waterra Words of Wisdom
Peristaltic pumps have a limited lift depending on your altitude; usually 24 feet  (7.3 m)or so